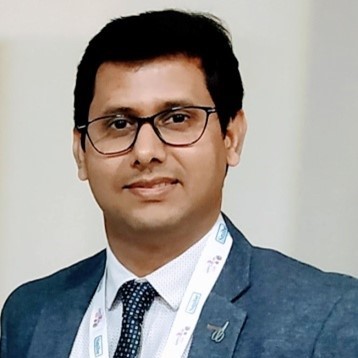 Pradeep K Dabla
Professor, Department of Biochemistry, G. B. Pant Institute of Postgraduate Medical Education & Research (GIPMER), Maulana Azad Medical College, GNCTD, Delhi, INDIA
Member IFCC-TF Global Lab Quality (GLQ)
Consultant IFCC-TF YS
Member APFCB-Communication & Publication Committee
Member IFCC C-MHBLM (Emerging Technologies Division)
NABL Lead & Technical Assessor Medical Laboratory for Clinical Chemistry & Molecular Testing as per ISO 15189:2012
National Medical Commission Assessor
Editorial Board: CCLM, WJD, Bentham publishers, Hindawi publishers
Prof. (Dr) Pradeep Kumar Dabla is an experienced Chairperson with a demonstrated history of more than 20 yrs of Leadership & Administration while working in the hospital & health care industry. He is a laboratory physician skilled in Medical Devices, Molecular Biology, Biotechnology, Laboratory Medicine and Clinical Research. A strong research professional while also working with National Accreditation Board for Testing and Calibration Laboratories (NABL), Quality Council, Govt. of India as an Lead & Technical Assessor Medical Laboratories.Assessor National Medical Commission, India.
Currently, he is working as a Professor, Department of Biochemistry, G.B.Pant Institute of Postgraduate Medical Education & Research (GIPMER), Associated MAMC, Delhi, India. He is also associated with academic International Federations in various capacities as Member IFCC TF-Global Lab Quality (GLQ); Consultant, International Core Committee of IFCC Task Force for Young Scientists (IFCC-TFYS); Core Member APFCB-Communication & Publication Committee & Member IFCC C-MHBLM (Emerging Technologies Division).
Because of leadership & academic interest, he also pursued "Leading Strategic Innovation: How to Lead with Purpose" from DEAKIN UNIVERSITY (AUSTRALIA) AND COVENTRY UNIVERSITY (UK) and "Good Clinical Practice" from NIDA Clinical Trials Network (USA) and "Essentials of Global Health" offered by YALE UNIVERSITY (USA).
Due to keen interest in research and laboratory medicine, he has been awarded Thrice for his research work in "Postmenopausal Women CAD Risk & Gene Polymorphism" and "Diabetic CAD Risk" and received other Five Awards & Travel Grants at International level during his early career. Since then, he has been invited several times as distinguished speaker & chair at number of National & International Congresses and also served in various committees at distinguished levels. He has more than 60 research papers to his credit in reputed National & International journals apart from 4 book chapters, 2 books and more than 40 abstracts published as a part of invited talks and papers presented. He also gained 2 patents designs in his name on Artificial Intelligence & lab diagnostics. He is associated with reputed journals into the capacity of editor, reviewer and advisory board member.