Travel information
Slovenia lies in the heart of Europe and is easily accessible from all parts of the continent by various means of transport.
By Air
Ljubljana Jože Pučnik Airport (also known by its previous name Brnik Airport) is located 23 km northwest of the capital Ljubljana and lies 145 km from Portorož. Other convenient airports are Trieste-Ronchi (Italy), 75 km west of Portorož, Venice international airport (Italy), 185 km form Portorož, Klagenfurt (Austria), 205 km from Portorož, Zagreb airport (Croatia), 300 km from Portorož. We recommend using the nerby Trieste airport.
For more information visit the following web pages:
lju-airport.si
triesteairport.it
veniceairport.it
Book AIRPORT TRANSFER here: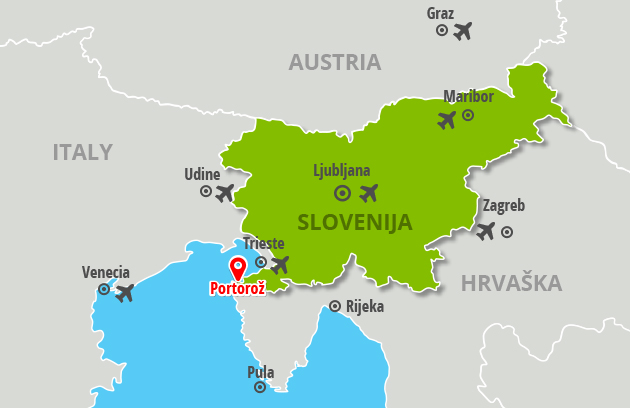 By Road
All major European motorways passing through Trieste (Italy), Klagenfurt and Graz (Austria) etc. are connected with Ljubljana and Portorož. Drive from Ljubljana or Trieste to Koper and then continue along the coast to Portorož. The Bernardin Convention Centre is located on the coast halfway between Portorož and the historic town of Piran.
For more help please visit www.viamichelin.com to find your preferred road connection.
Listed below are the distances from Portorož to some nearby cities:
Trieste (Italy) - 32 km
Venice (Italy) - 198 km
Klagenfurt (Austria) - 195 km
Vienna (Austria) - 502 km
Munich (Germany) - 517 km
Budapest (Hungary) - 570 km
Zagreb (Croatia) – 253 km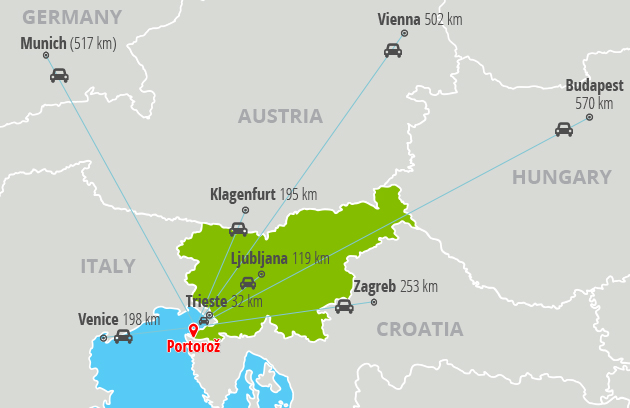 www.bahn.com
By Train
Portorož may be reached by train from all major European cities through Slovenia's bordering countries (Italy, Austria, Hungary and Croatia) going mainly via Ljubljana to Koper. You can find the appropriate train connection at www.bahn.de.
You can take a taxi or a public bus from Koper to Portorož (every 30 min 5:00 – 22:00 h, approx. € 3).
For more information see the following web page: www.slo-zeleznice.si.
Letter of Invitation/Visa Requirements
For citizens of many but not all countries, a valid passport (or personal identity card for residents of EU) is sufficient to enter Slovenia. Participants are advised to check visa requirements at their nearest Slovenian embassy or consulate. Information on visas and the addresses of Slovenian embassies are available on the website of the Slovenian Ministry of Foreign Affairs at www.mzz.gov.si/en.

Participants who need a visa to enter Slovenia have to request a Letter of Guarantee, which will be prepared by the Organising Committee. The visa cannot be obtained without a Letter of Guarantee, which is intended to facilitate the participant's visa arrangements only, and does not imply the provision of any financial or other support. In the event that you apply for a visa at any Slovenian embassy, please fill out the form below completely in order to arrange a Letter of Guarantee and fax it to +386-1-24-17-296 or send it attached in an email to the e-mail address registration@cd-cc.si, at least one month before your arrival.

The organiser is authorised to demand payment of the registration fee before the visa procedure starts. Please note that all costs are to be covered by the participant (verification tax and DHL post costs if needed).